Day Three: Elizabeth Fry Week 2023
5/10/2023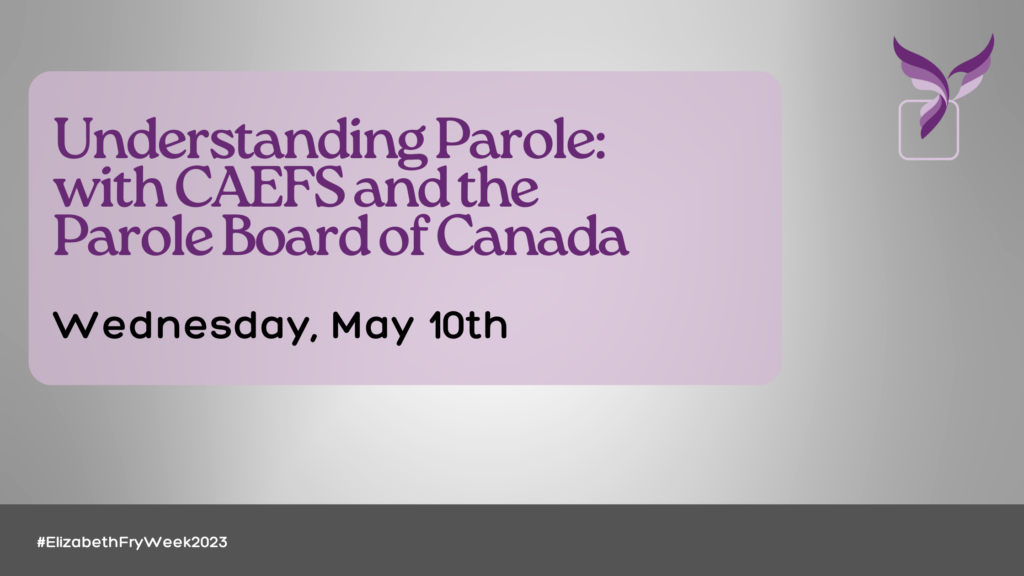 Today's Live Event: "Understanding Parole" with CAEFS and the Parole Board of Canada
Today (May 10th) from 3:00 – 4:30pm eastern time (click for other time zones)
Sensationalistic media coverage and political narratives continue to trigger reactionary tough-on-crime reform efforts in Canada related to systems of release, and conditional release from incarceration. However, little attention is paid to the root causes of social harm, the impacts of pandemic conditions, and within this, the failures of multiple social systems that occur prior to and during processes of criminalization. As a result, parole is often mischaracterized and targeted as in need of more punitive reform.
We invite you to join the Canadian Association of Elizabeth Fry Societies in an in-depth conversation with the Parole Board of Canada, as we raise public awareness and understanding of the legal and social context, purpose, functions, and changing scope of parole in Canada.
Contributors: Jennifer Oades (Chairperson of the Parole Board of Canada), Sylvie Blanchet (Executive Vice-Chairperson of the Parole Board of Canada), nyki kish (Associate Executive Director of CAEFS), Emilie Coyle (Executive Director of CAEFS).
Accessibility: Simultaneous English to French translation will be available, along with closed captioning in English. This event is free and will be hosted online via Zoom.
Meet our Peer Outreach Worker
We are excited to share that CAEFS has introduced a new position: Peer Outreach Worker. This position will be focused on supporting and advocating for people on parole in Quebec. This is part of a pilot project that focuses on fostering community and connecting people to resources as they prepare for release and transition back into community.
Learn more about the position and Johanne, our incredible Peer Outreach Worker.
Did you know?