Elizabeth Fry Week 2022: Day 5
5/6/2022
It is hard to find the words to express the strength and the generosity of everyone who has shared their stories this week. As has been mentioned during each of our public panels there is great importance in listening and witnessing, and there is also a great responsibility that comes from that. All of the conversations we are having this week discussions will inform future advocacy work and resources, so thank you for being a part of this week and these critical conversations. Here is what we have planned for you today:
Doing Life: "The Impact of Life Sentences on Family and Community" (Today from 5:00 – 6:30 pm est)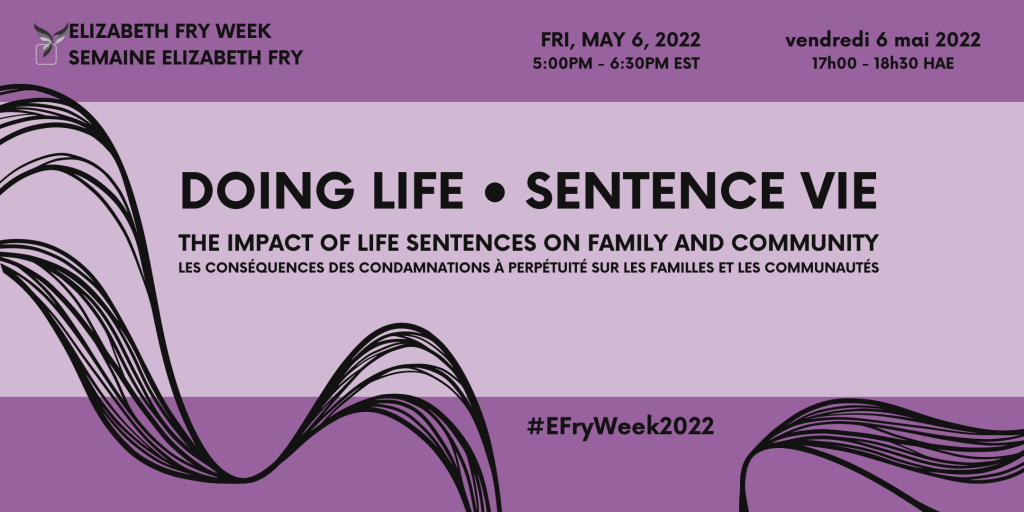 In this discussion ethics and impact of perpetual sentencing will be explored through a discussion about how life sentences impact family and community. This conversation will center the juxtaposition of the importance of maintaining contact with one's family and community during and post-incarceration, and the many ways that the conditions surrounding life sentences permanently disrupt family and community contact, connection, and closeness. Speakers: Shelly Williams, Wendi Lamirande, Idil Abdillahi, and Sheri Pranteau. Moderated by members of the CAEFS team. We are grateful to helper Vicky Boldo for joining us for this discussion and offering her support.
Simultaneous French translation and automatically generated closed captioning in English provided.
Myth vs. Reality
Today's myth vs. reality focuses on the invasive and restrictive process of maintaining family and community connections while service a life sentence and on parole.