Elizabeth Fry Week 2022: Day Three
5/4/2022
Welcome to Day 3 of Elizabeth Fry Week 2022! Thank you to everyone who was able to join us yesterday for our first public event of the week "The History of Sentencing Women to Life in Canada". Continue reading for important event updates, a moving written and audio piece by Viviane Runo, and the reality about one of the most prominent myths about life sentences in Canada.
Live Event Update and Reminders
Today's public event "La Sentence Vie: La Vie Après Prison" has been cancelled. We hope to see you at one of our 3 other live public events.
Life Sentences Over the Life Course – Thursday from 7:00 – 8:30pm EST
The Impact of Life Sentences on Family and Community – Friday from 5:00 – 6:30pm EST
Life Sentences, The Law, and Ongoing Colonial Violence – Saturday from 2:00 – 3:30pm EST
Lettre à mon boulet by Viviane Runo
We are pleased to be sharing with you a piece called "Lettre à mon boulet", written by Vivane Runo and recorded by Johanne Wendy Bariteau. Vivane Runo is also frequent contributor to La Presse, where she writes about her experiences of being incarcerated. This piece is only available in French.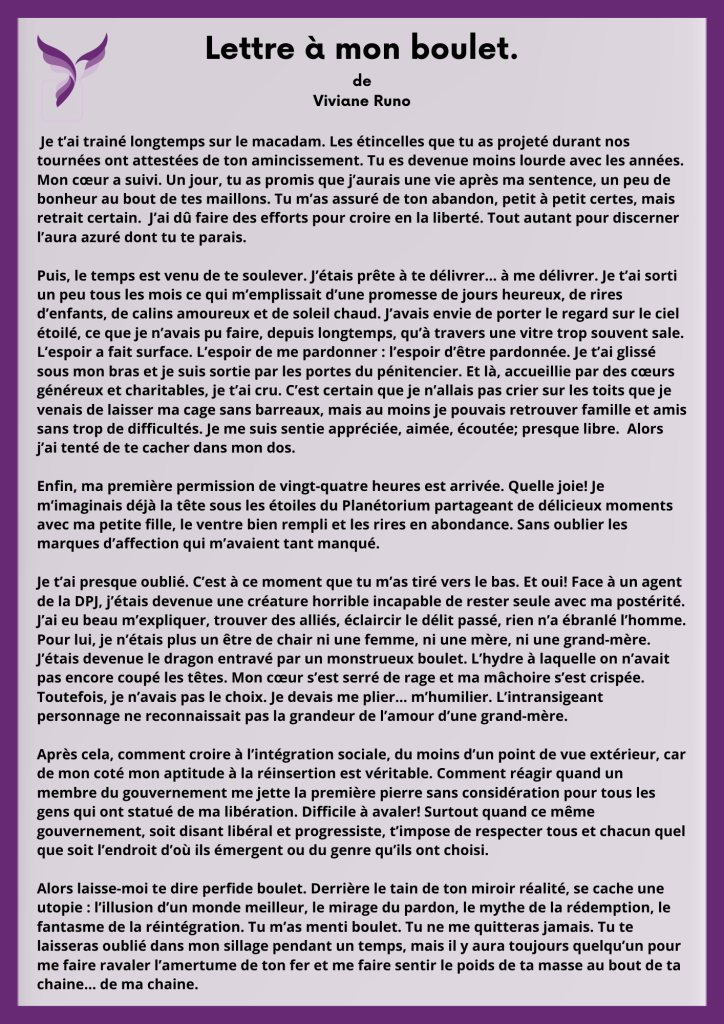 Myth vs. Reality
Today we are addressing one of the most prominent myths about life sentences: people only get life sentences when they have intentionally killed someone. In reality, this is not true.