Elizabeth Fry Week 2022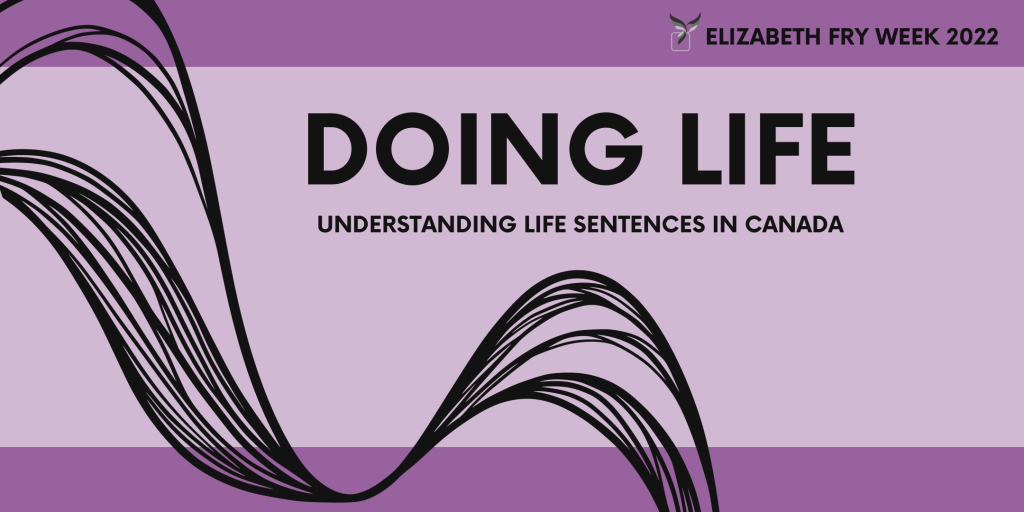 This year's Elizabeth Fry Week theme is: "Doing Life: Understanding Life Sentences in Canada".
The goal of Elizabeth Fry Week is to enhance public awareness and education around the issues impacting criminalized and marginalized women and gender-diverse people.
This year, we are using Elizabeth Fry Week to raise awareness about on one of the least talked about and, arguably, most egregious justice issues in Canada: perpetual sentencing.
From May 2nd to 7th 2022, we will be hosting a series of free public discussions on life sentences that will help to make visible the hidden and unjust impacts of life sentences in Canada. Stay tuned for a detailed list of events and registration details. We hope you'll join us.
You can find more information about our past Elizabeth Fry Weeks below.
Elizabeth Fry Week 2021: Human Rights in Action

As an organization, we've always known that human rights for criminalized and marginalized people are hard won. During the COVID-19 pandemic, however, it has been made clear that these rights – even when won – can still be overlooked and minimized. Having rights enshrined in law is not enough. In 2021, we drew inspiration from the legacy of this organization's namesake, Elizabeth Fry, and her work in asserting the humanity of incarcerated people – in helping to center the 'human' in their 'human rights' through our awareness raising campaign.

Through a series of video interviews, we put a spotlight on the work that is happening across our network of 24 local Elizabeth Fry Societies and regional advocates to safeguard the humanity of people within systems and structures that are designed to be dehumanizing. We also used this moment to reiterate our numerous calls to act to protect the safety of incarcerated people during the COVID-19 pandemic.

All of the videos are available on our YouTube channel or on the 'videos' section of this site. 

Elizabeth Fry Week 2020: Build Communities, Not Prisons

We used this week to highlight the amazing community building work that all of our local member societies do – before, during, and after COVID-19 – because we know that the only real alternative to prisons are thriving communities.

This was also a time to imagine what a thriving community may look like when we emerge from the pandemic. The pandemic has exposed serious flaws and gaps our existing systems. It has become glaringly obvious that we need to create a new way of operating – one that reflects the vital lessons we have been learning about how we are all able to contribute to collective safety and care.

In a time when there is so much uncertainty, we look forward to making this week one that is centered on hope and imagination, working together to envision the communities we need.

Elizabeth Fry Week 2019: A Campaign to End Strip Searching

On May 10th, 2019, Elizabeth Fry Societies and partner organizations across Canada brought together women with lived experience in a National Day of Action to raise awareness, amplify women's voices, and demand that the government #HearMeToo and #EndStripSearching in women's prisons.

Every day in prisons across Canada people are forced to strip naked after they visit  with their  children, after they have gone to work, or to a drumming circle. As a woman at the Grand Valley Prison for women, in Kitchener, Ontario, describes the situation:

"Prior to their incarceration, most women in prison have suffered maliciously at the hands  of their past abusers be it physically, mentally, emotionally, and most scarring of all sexual  abuse. To say the least, strip searches are traumatizing, and degrading as we are requested to bend over and cough while completely naked in the presence of two  officers."

In the wake of the #MeToo movement, we are hard-pressed to understand how forcing  women to remove their clothes and perform humiliating actions with intimate parts of their  bodies is not understood as sexual assault. Outside of state power, this behaviour would  be  considered and treated as such.