Elizabeth Fry Week 2022: Day 4
5/5/2022
Welcome to Day 4 of Elizabeth Fry Week 2022, which also marks Red Dress Day. Red Dress Day is a time of remembering and honouring Indigenous women, girls, and Two Spirit people who have died because of racialized and gender-based violence. With this in mind, we are starting today's post by sharing this beautiful video created by the Elizabeth Fry Society of Calgary called "Healing our Hearts".

The Globe and Mail also released an article this morning highlighting that Indigenous women now make up over half of the federal prison population. Emilie Coyle, CAEFS executive director is quoted and emphasizes how, for Indigenous women, vulnerability and marginality is far too often translated into "risk" within all aspects of the so-called criminal justice system. If you are interested in learning more about the connections between the crisis of murdered and missing Indigenous women and girls and the crisis of their incarceration in Canada, we invite you to join us on Saturday for "Life Sentences, the Law, and Colonial Violence" – a live panel discussion featuring Senator Kim Pate and Joey Twins and moderated by members of the CAEFS team. We are grateful to elder and traditional knowledge keeper, Wanda Whitebird, who will also be joining us. You can register here.
Live Panel: Life Sentences Over the Life Course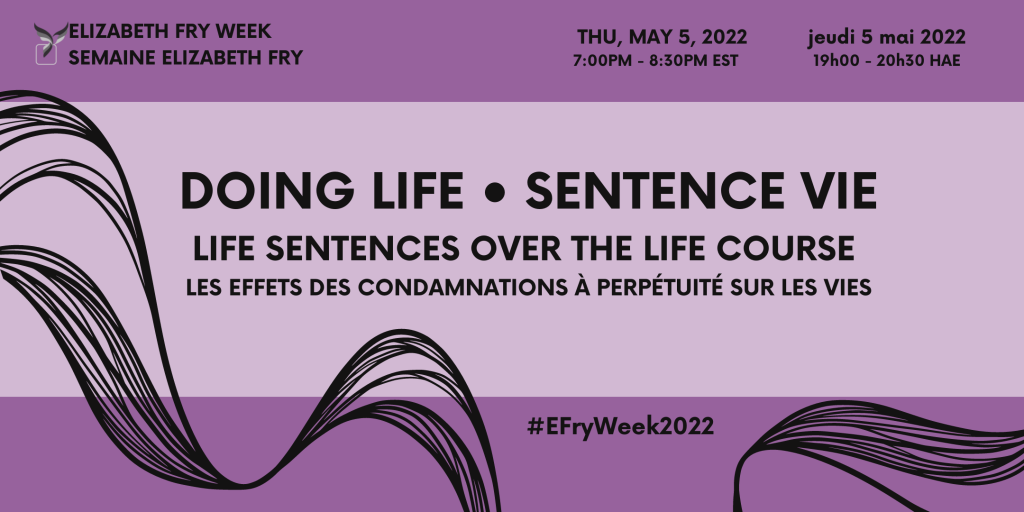 This public discussion brings together four advocates of criminalized people in Canada to look at how life sentences impact people over their life courses. Despite much misinformation that portrays life sentences as a sentence that ends after 10 or 25 years in Canada, life means life. Even if a person is sentenced at 18 years old, they will remain under sentence until they die. Life sentences were introduced into Canadian legislation in 1979, and today, many life sentenced people are living with the sentence 30-40 years after they were sentenced, or have now passed away while still under sentence. Life sentences currently comprise 25% of all federal prison sentences, and little research and awareness exists about how problematic the sentence becomes for individuals, communities, and even for the prison system because its perpetual nature contradicts the fundamental listed purpose of Canadian prisons: public safety through reintegration.
Join Adelina Iftene, Sheri Pranteau, Johanne Wendy Bariteau, and Cathee Porter for a live panel that will address how many of Canada's most disadvantaged people experience life sentences over time, and explore big questions such what purpose being kept in a prison or on parole for a lifetime really serves. Moderated by members of the CAEFS team. We are grateful to helper Vicky Boldo for joining us for this discussion and offering her support.
Simultaneous French translation and automatically generated closed captioning in English will be provided
Myths vs. Facts