Elizabeth Fry Week 2022: Day Two
5/3/2022
Thank you to everyone who participated in Day One of Elizabeth Fry Week 2022. We have another day of rich content to share with you today. Including our first live panel and a new report.
Public Discussion: Doing Life – A History of the Life Sentencing of Women in Canada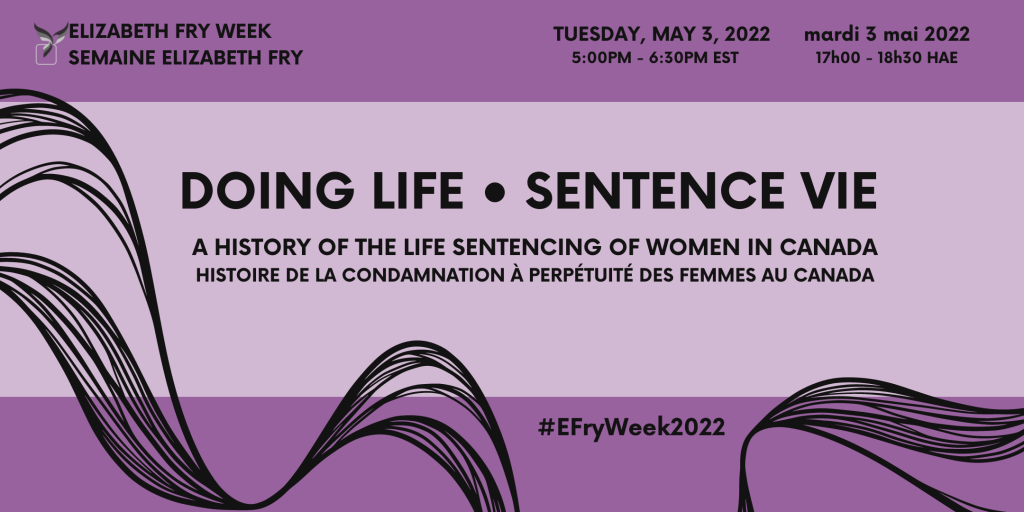 Join CAEFS for a discussion exploring the important topic of life sentences in Canada. This event will feature a pre-recorded panel discussions where people who have been sentenced to life will share their insights about how conditions have changed over time and across shifting political landscapes. From a time when all women were held within Kingston's Prison for Women, through the implementation of Canada's infamous Creating Choices framework, to the state of carceral conditions today, the expertise of those on this panel will shed insight into how life sentences have, and continue to adversely impact women and gender diverse people, their families, and communities – with a particular focus on the impact on mental health. Discussion will evoke consideration of wider questions about the ethics and morality of the practice of perpetual punishment. The recording will be accompanied by a live opening and closing. Moderated by members of the CAEFS team. We are grateful to Elder Wanda Whitebird for joining us for this discussion and offering her support. A reminder that there will be no recording of the event available for later viewing – please join us live!
The Failure of Creating Choices – A New Report from CAEFS
This, "The Failure of Creating Choices", contextualizes the historical and present significance of the Canadian Association of Elizabeth Fry Societies (CAEFS) in relation to the history of Creating Choices. It also highlights the body of existing evidence that both supports and expands upon the findings of the Office of the Correctional Investigator's recent review of penitentiaries designated for women in Canada, all of which illustrates that women and gender-diverse people continue to be failed and harmed in Canadian penitentiaries. As such, this report calls for immediate action to be taken to create structures of binding authority that will ensure that the evidence and recommendations put forward by these oversight offices, commissions, and task forces lead to the transformative outcomes that the system so desperately needs. Read the full report below.
Life Sentences: Myth vs. Reality
Throughout the week, we will be dispelling myths about life sentences in Canada. Follow us on social media to learn more.