Elizabeth Fry Week: Day 6
5/7/2022
Thank you again to everyone who was able to join us for yesterday's panel and who have continued to engage with this important issue throughout this week. Here is what we have planned for today:
Doing Life: "Life Sentences, the Law, and Ongoing Colonial Harm"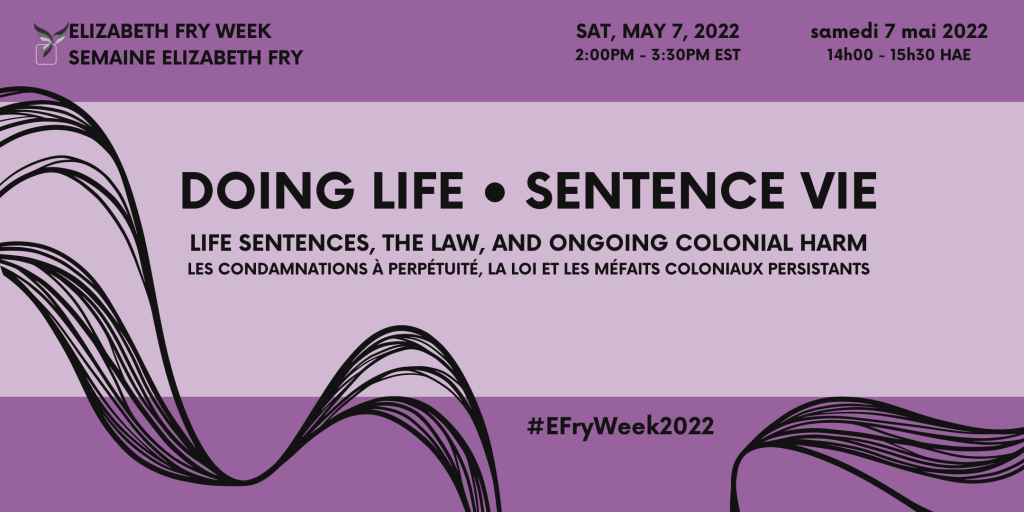 For our final live panel of the week, we invite you to join Joey Twins and Senator Kim Pate for a discussion about the ways in which life sentences perpetuate colonial violence and intergenerational harm. Speakers will bring attention to how systemic racism and misogyny is exacerbated by the legal system in ways that ensure the mass incarceration of Indigenous People, and the reality that Indigenous women are the fastest growing prison population and increasingly likely to be criminalized and imprisoned for life for defending themselves and others in their care. Moderated by members of the CAEFS team. We are grateful to Elder Wanda Whitebird for joining us for this discussion and offering her support.
Simultaneous French translation and automatically generated closed captioning in English provided.
Myth vs. Reality
Today, we want to dispel the myth that only a small number of federally sentences people are serving life sentences. in reality the percentage of federally sentenced people with life sentences is approaching 25% – a percentage that has been consistently rising.