Elizabeth Fry Week: Doing Life, May 2022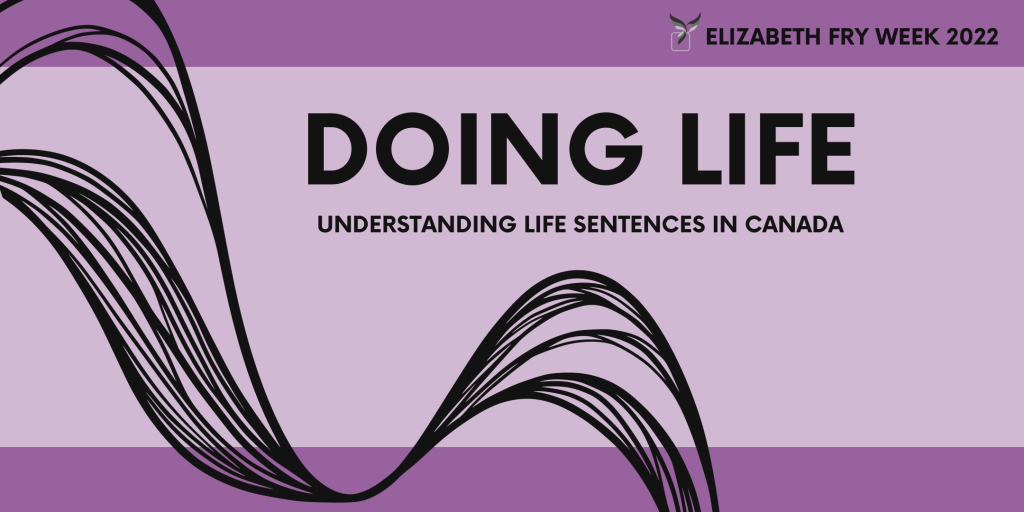 The goal of Elizabeth Fry Week is to enhance public awareness and education around the issues impacting criminalized and marginalized women and gender-diverse people. In 2022 we used Elizabeth Fry Week to raise awareness about one of the least talked about and, arguably, most egregious justice issues in Canada: perpetual sentencing. Our theme was: "Doing Life: Understanding Life Sentences in Canada".
From May 2nd to 7th 2022, we hosted series of free public discussions on life sentences that will help to make visible the hidden and unjust impacts of life sentences in Canada. Including two pre-recorded panels, that are still available to be listened to / viewed:
Doing Life: Understanding Life Sentences in Canada: This audio panel features Johanne Wendy Bariteau (Regional Coordinator, CAEFS), Sheri Parenteau (Advocacy Liaison, CAEFS), and El Jones (Poet, Scholar, Activist) in conversation with Emilie Coyle (Executive Director, CAEFS). Together, they share their perspectives on life sentences in Canada, offering critical insight into the day-to-day realities of living with a life sentences and the systemic issues that underpin them. El also shares an incredibly moving poem, inspired by a list of "activities we will do when mommy gets out" left in the visiting room at Nova Institution. Note that this is currently only available as an audio file and in English. Transcripts in both French and English are forthcoming.
Doing Life: A Feminist Abolitionist Perspective: Join Emilie Coyle (Executive Director, CAEFS), in conversation with Dr. Debra Parkes – one of the leading scholars studying life sentences in Canada. Together, they discuss why life sentences are a feminist issue, the realities and histories of life sentences in Canada, what changes can lead us towards the abolition of life sentences. This video is available with English and French subtitles.
Below you will find an overview of each day's events, including discussions, social media features, and reports. We were grateful to welcome the perspectives of numerous people with life sentences, as well as other scholars, advocates, and community members.